S'More News
City of Virgina Beach Fire and Campfire Regulations
The city has strict regulations for how and where to burn. We always follow the regulations and encourage you to also. Not unlike in California, municipalities have struggled to not be so restrictive as to prevent marshmallow roasting or bonfires, communities have come together so that all may enjoy our beaches, and therefore, enjoy a delicious S'more now and then.
And be sure and check the National Park Service web site for rules. For example, here is Beach Fire and Campfire Regulations for Golden Gate National Recreation Area, California.
From coast to coast, we can enjoy the roast!
Bryce Canyon, Utah
October at Bryce Canyon, Utah is a great place for a nice warm fire. We saw many families roasting marshmallows and hotdogs at their campsites. Mike and Bill knew just how to build a wonderful fire, which was especially needed in October at Bryce.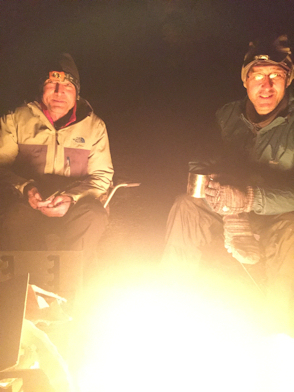 Mike and Bill around the fire at Bryce Canyon

It was cold at Bryce Canyon in October, but the fire was warm and marshmallows don't care about the cold!
Fire Pits and Bonfires on California Beaches
Despite efforts to close California beaches to bonfires and firepits, there are still many places along the coast to roast marshmallows. CaliforniaBeaches.com provides us a Map to beaches allowing bonfires or having firepits.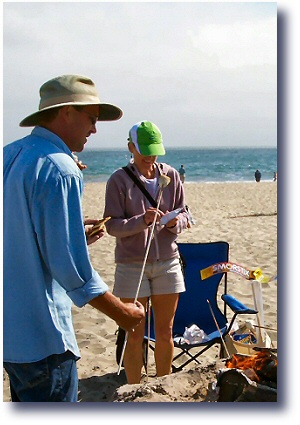 David and Sue roast marshmallows on Seabright Beach in Santa Cruz California. There are many other beaches along the beautiful California coast where you can get your roast on.
Point Reyes / Mendocino, California
Spend a week in October on the Northern California coast to ponder all things Mallow. When camping at Vandamme State Park campground , the fires are perfect for roasting. But fires may not be allowed at Coast camp in Point Reyes National Seashore.
The wine tasting at Mazzocco Winery in Healdsburg or Phillips Hill Winery in the Anderson Valley is wonderful. If you like Zinfandel, Mazzocco is the place. If you prefer Pinot, then it's Phillips Hill. Thank you especially to winemaker Antoine Favero (Mazzocco) for the tour!
Paris in May
Our NMRI President was in Paris to taste-test and evaluate marshmallows in the City of Light. The French take their marshmallows seriously, often having mallow tastings and wine paring events that attract some of the biggest names in entertainment.
Jerry blogged his whole trip with links to photos and comments on his daily activities over the two weeks in France. The bulk of his stay consisted of playing clubs with the band and hanging in the 7e Arrondissement, Paris. But travel plans took him to the eastern France cities of Metz and Homecourt and to the coast of Normandy, where Jerry paid his respects at the American cemeteries and the D-day beaches.
Big Sur
My personal favorite has to be the annual Big Sur Roast at Lime Kiln State Park the second week of October. What perfect weather and a great turnout!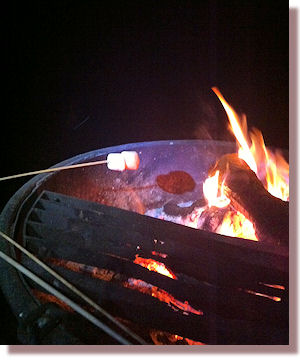 Roasting in Lime Kiln State Park, Big Sur, CA
If you prefer camping overlooking the Pacific Ocean, rather than under the redwoods at Lime Kiln, then just a couple miles down Highway 1 is Kirk Creek Campground. Beautiful, and you always meet the most interesting people. I met a young woman and her boyfriend from Sweden for whom I played guitar and sang at a memorial she set up overlooking the ocean for her grandmother who passed away while she was biking down the coast. Sad but memorable. We met a young girl from Switzerland riding a $100 bike she bought in San Francisco so she could ride to LA. Oh my. No tent, homemade rack for her stuff, no helmet. I do wonder if she made it.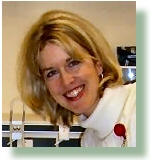 Tara's Mallow Reviews!
From time-to-time, our esteemed NMRI Public Information Officer and Media Specialist, Tara, reviews scrumptious Marshmallow Products.
Her reviews are for:
Chocolate Stuffed Marshmallows, Juju Z Treat Co.
Plush Puffs Orange-Honey Marshmallows
Whole Foods Vanilla Bean Marshmallows
Trader Joe's Dark Chocolate Minty Mallows
One of the top 25 quintessential things to do ...
In and around Boston, that is. The Boston Globe names the 'What the Fluff?' Fluff Festival one of the top 25 things to do in September. Let's plan on it in Somerville, MA!
Mt. Whitney Roast
After 7 of 8 members of our climbing party scaled Mt. Whitney, we celebrated with a marshmallow roast.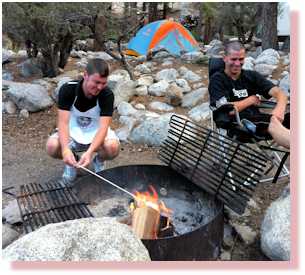 Jesse and Matt schooled us in proper roasting technique. And yes, both made it to the top of Mt. Whitney earlier that day, fueled by S'mores of course. (That's Jesse wearing the official Mr. Mallow apron)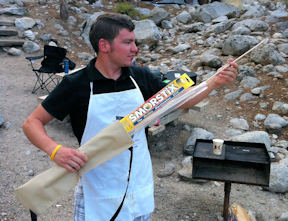 We love our SmorStix in the quiver!
---

Mallow Color Continuum
(Oslo, Norway)
The Roasted Mallow Color Continuum was revised in Oslo by the European Order of the Mallow and the President, NMRI. Note the "OOPS" color that the judges have determined to be a valid color, owing to the fact that so many of our roasters really like that charred, flaming taste.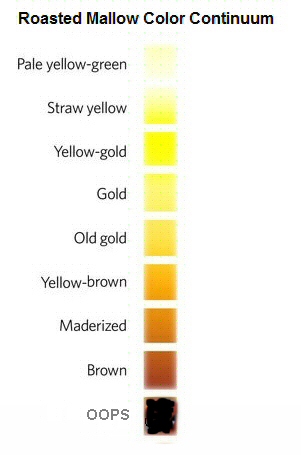 ---
S'more-tini anyone?
Our esteemed Professor of Mallow Lore and Director of Foreign Affairs, Nancy Karasevich, has perfected her latest adult beverage ... the S'more-tini. We'll be ordering this at our favorite Malibu California hangout after a hard day roasting on the beach. Join us at the
Sunset Restaurant & Beach Bar.
Wipe the rim of a chilled martini glass with a lemon slice. Gently place the rim of the glass down into a bed of finely crushed graham crackers. Remove from crushed graham crackers and set aside.

Shake 1 1/2 oz Effen Vodka in ice.
Pour gently into the martini glass, being carefull not to disturb the graham cracker crumbs on the edge.

Garnish with two mini-marshmallows above one Trader Joe's, or other fine French Chocolate Truffle on a martini skewer.

Enjoy ... and have S'more!
---