The National Marsmallow Roasters Institute (NMRI) is an organization dedicated to furthering the study of marshmallow roasting and communication studies. We are passionate about our professions.
Mission Statement
The NMRI informs and educates all roasters to become the best roasters in your communities. We explore how you can become better communicators with your customers, employees, friends and family.
Who we are

We are every person who has savored the perfectly roasted marshmallow. Sometimes, nothing else will satisfy. The art and science behind the perfectly roasted marshmallow is glorious to behold. Done correctly, roasted mallows are as the nectar of the gods. Done incorrectly and your tent may burn down.
We at the National Marshmallow Roasters Institute are here to make your roasting events glorious experiences that you will treasure for the rest of your lives. Children will bow down to you. Women will throw themselves into mens' tents. Men will carry women clear across the campground to the bathrooms with the only showers, next to the campground store where you can purchase all that damn stuff you forgot, but...I digress.... All of these glorious benefits await you because you've roasted the perfect marshmallow!
Where it all began
Visit Mallow, North Cork, Ireland where the ancient occupation of "burner of the mallow" (roaster) began. According to Susan G. Warner, Mallow Historian and Esteemed Adjunct Professor Emeritus of Mallow Lore at the NMR Institute, "The mallow was first burned, as it were, in 944 CE (current era)." Further, she states, "It was the roasting of the mallow that led to the peace between the Angles and the Saxons, and established the first common language of the two tribes - Old Irish. Though unspoken today, a few words of that language still survive in modern Irish and English. 'Mallow' is one of those Old Irish words."
These are the good old days!
---
The NMR Institute © 2017 | All Rights Reserved
Roast in the Mountain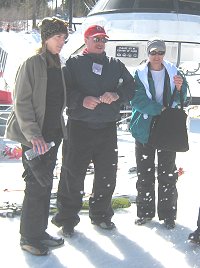 NMRI Chief Financial Officer, Nancy Karasevich., President, Jerry Grinstead, and
Education Director, Susan Warner
Head up the slopes for some great high altitude winter roasting in Lake Tahoe, California, with seminar guests from Bormes Les Mimosas, France
Our Favorite Links
National Horseshoe Pitchers Association
International Federation of Competitive Eating
International Dodgeball Federation
United States Curling Association
---

Marsha Mallow answers:
Paula from Spokane asks: "Are marshmallows good for you?"
Marsha answers: Nutritionally, one could live on marshmallows very well. They contain food from the four food groups. Gelatin coming from the boiled bone and tendons of slaughtered steers, fed only organically grown alfalfa. Powdered sugar from sugar cane, NOT high-fructose corn syrup. A touch of vegetable shortening from sun-ripened sunflowers. And just a touch of sweet cream from beautiful dairy cows from our country's heartland. What could be a more perfect food?

Serving Size: 4 Mallows 30 g
---

Amount per Serving

---

Calories

100
Calories from Fat 0

---

% Daily Value *

Total Fat 0g

0%
Saturated Fat 0g
0%

Cholesterol

0mg
0%

Sodium

30mg
1%

Total Carbohydrate

24g
8%
Dietary Fiber 0g
0%
Sugars 19g

Protein

1g
2%

---
---
Est. Percent of Calories from:
Fat 0.0% Carbs 96.0%
Protein 4.0%
Try the new vitamin-fortified mallows for a completely balanced nutritious meal.